With the explosion of online gaming in the last decade, it has become essential for gamers to find the best computers to get the most out of their gaming experiences at the best online casino. That requires not only a powerful system but one tailored to the game they are playing.
There are a few consideration factors when selecting the best computer for online gaming. Performance, graphics, storage, and pricing are among the top variables.
Why waste time on the details when we have already taken care of everything? Check out the top online gaming computers suitable for all types of players.
Alienware Aurora R13: Best Overall
A true definition of power and performance, the Alienware Aurora R13 is the finest computer for online gaming. This VR-capable computer features an Intel Core i7-12700KF processor with 64GB RAM and an Nvidia GeForce graphics card (3090). As such, it can run the latest games on the highest settings.
The Aurora R13 also offers up to 2TB of SSD storage, allowing you lots of space for your binge favorites. It also includes the MS116AW optical mouse and Dell's multimedia keyboard, ensuring value for money.
The Alienware Aurora R13 offers excellent performance and a stunning design. However, it's the priciest option listed here, but a worthwhile choice given its superior gaming experiences.
Acer Predator Orion 3000: Best for Beginners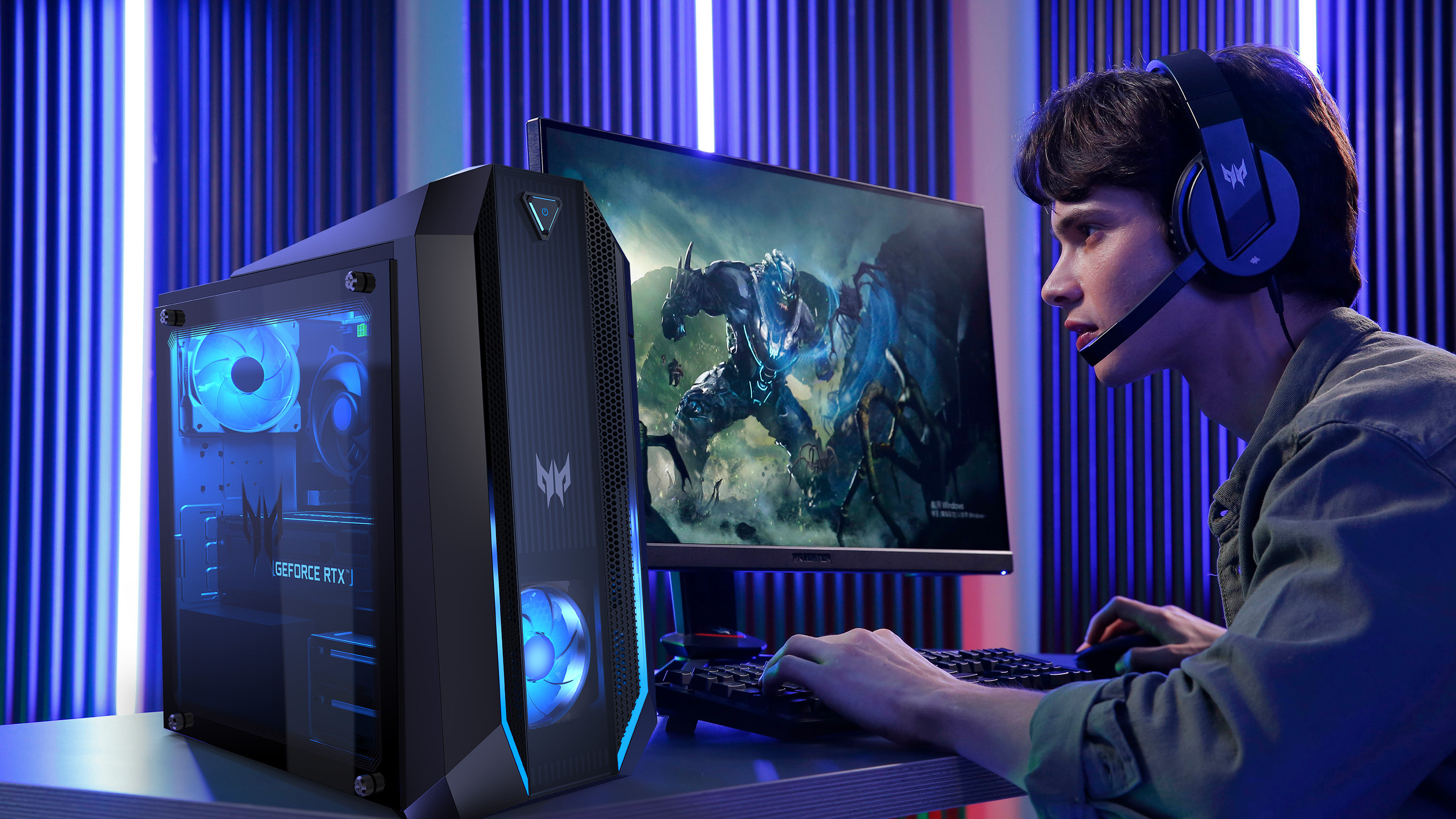 If you're looking for something you can get started with and grow into, the Acer Predator Orion 3000 is an excellent option. It's VR-ready, comes with Intel Core i7 processing unit, 16GB RAM, and its robust Nvidia graphics card: GeForce RTX 3070 Ti.
The Predator Orion 3000 also offers up to 1TB of storage, with SSD and HDD. The customizable RGB lighting allows you to spice up your gaming space to your liking. Plus, it includes a wired keyboard and gaming mouse.
Though not as powerful as the Aurora R13, Orion 3000 offers great value for the price.
Corsair Vengeance a7200: Best Customizable Computer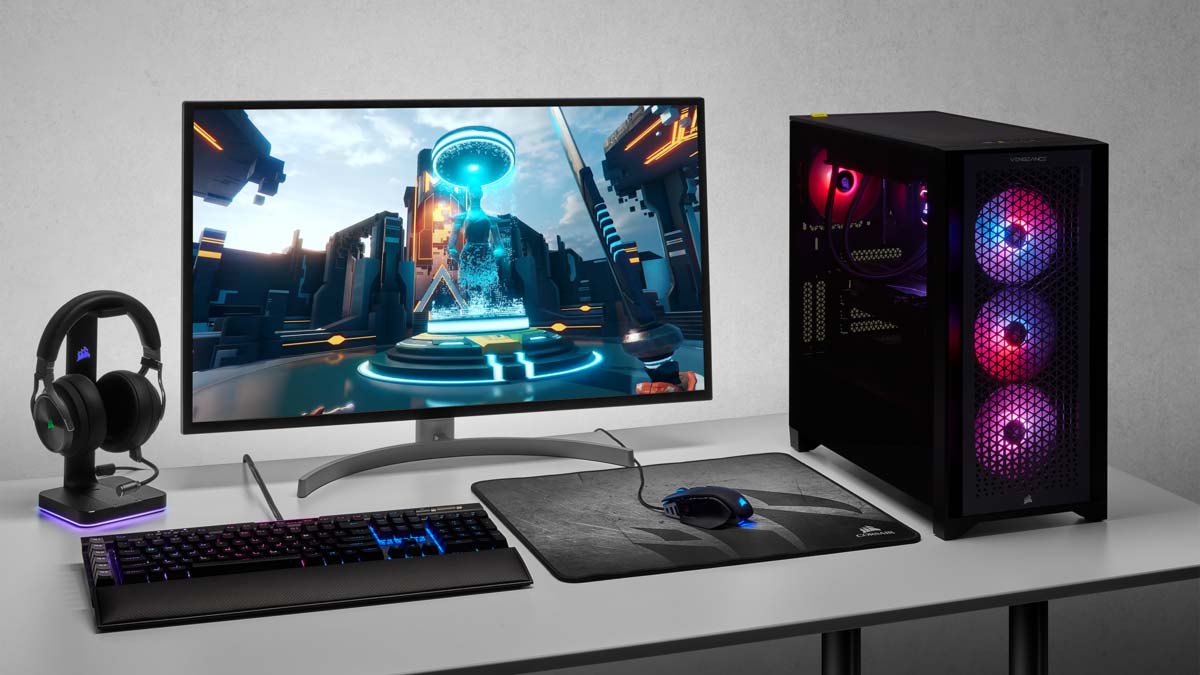 Tweaking your rig's settings is a must for any passionate online gamer. With the Corsair Vengeance i7200, you can do exactly that.
This powerful machine comes with a Ryzen 9 5900X or Core i9-10850K processor, 64GB RAM, and an Nvidia GeForce graphics card: RTX 3090. It also offers up to two 2TB of SSD storage.
The Corsair Vengeance i7200 is the perfect computer for those who want to customize their gaming experience. It offers plenty of power and the ability to make changes as needed. The downside is that it doesn't come with accessories, unlike our top two choices.
HP Omen 25L: Best Build Quality
Boasting a full-metal frame and side panels with tempered glass, the HP Omen 25L is the best build-quality gaming computer on the list. It's VR-ready and comes with an Intel Core processor: i5-12400.
The 8GB RAM and NVidia graphics card, RTX 3050, provide vivid, smooth-flowing online gaming. The Omen 25L also offers PCIe 3.0 SSD storage of up to 256GB.
This unit's excellent build quality makes it the perfect choice for gamers who want a reliable machine. It's also relatively affordable, though it has the least storage.
Dell XPS 8950: Best Online Gaming Computer Under 1000
For gamers looking for a powerful gaming machine without breaking the bank, the Dell XPS 8950 is an excellent option. This machine is VR-ready and comes with an Intel Core processor: i9-12900K.
Thanks to its Nvidia Graphics card, RTX 3090, and 64GB RAM, the XPS 8950 guarantees uninterrupted online gaming action. It also offers up to 2TB HDD and 2TB SSD storage, adequate for all your favorite games and other files.
The Dell XPS 8950 is an excellent choice for gamers on a budget. It provides great performance and plenty of storage (the most on the list). The lack of accessories is a bit of a letdown, but the price and specs more than make up for it.
Conclusion
If you're looking for the best computer for online gaming, the five computers listed here are excellent choices. Each offers great performance, storage and memory options, and a superb design.
The Alienware Aurora R13 offers the best overall performance, though you can get a decent performance under $1000 with the Dell XPS 8950. That said, you can enjoy smooth gaming with all these PCs irrespective of preferences, budget, or skill.